Astro Port ist ein sehr aktiver Entwickler,
der seine Spiele boxed bzw. retail verkauft. Und das Schöne ist: Es handelt sich um astreine Arcade-Spiele, die ihren bekannten Vorbildern in nichts nachstehen oder sie sogar übertreffen! Jedes bisher veröffentlichte Spiel ist mindestens gut, die meisten sogar sehr gut.
Index (auf die Links klicken, um direkt zu dem entsprechenden Spiel zu springen):
Supercharged Robot Vulkaiser

Das erste Spiel von Astro Port lässt bereits erahnen, welche herausragenden Fähigkeiten die Entwickler haben. Bei Vulkaiser handelt es sich um einen sehr schicken "Horishooter" in einem Battlemech Universum. Die Spielbarkeit ist ohne jeden Makel. Wem die Battlemech Thematik nichts ausmacht, bekommt ein wirklich gutes Spiel. Die uns vorliegenden Exemplare wurden auf CD-Rs ausgeliefert. Alle anderen Spiele, die nach Vulkaiser veröffentlicht wurden, befinden sich auf gepressten CDs.
Video bei Vulkaiser starten: 02:08
Homepage: Vulkaiser
Trial Version: vulkaiser_trial.zip
Update/Patch: vulkaiser_patch.zip
Zurück zum Index
Armed Seven

Hierbei handelt es sich schon wieder um ein horizontal scrollendes Shoot 'em Up, welches aber völlig anders als Vulkaiser aussieht. Dieses Mal hat sich Astro Port für ein eher militärisches Design entschieden, welches auch wesentlich düsterer daherkommt. Neu ist die Fähigkeit, den Winkel des Waffenarms einstellen zu können. Dadurch erinnert das Spiel etwas an Einhänder für die PlayStation. Jedoch ohne dessen Klasse zu erreichen. Armed Seven ist, verglichen mit Vulkaiser, ein kleiner Rückschritt, aber immer noch sein Geld wert.
Video bei Armed Seven starten: 11:06
Homepage: Armed Seven
Trial Version: a7_trial.zip
Update/Patch: a7_patch.zip
Zurück zum Index
Meglilo the Witchborg

Dieses Spiel gehört definitiv zu den Highlights. Und es ist das erste vertikal scrollende Shoot 'em up von Astro Port. Die kleine Hexe Meglilo hat eine sehr interessante Fähigkeit: Sie kann von einer Stelle zur anderen warpen. Während man mit einer kleinen Markierung die Position wählt, zu der sie springen soll, wird das Spielgeschehen angehalten. Das kann man nicht unendlich lange machen, weil der Energiebalken für den Warp währenddessen abnimmt. Aber nur so kann sie dem an einigen Stellen sehr dichten Kugelhagel entkommen. Und einige große Gegner versperren ebenfalls den Weg.
Grafisch ist das Spiel außerordentlich schick und die Spielbarkeit ist grandios. Meglilo the Wichborg ist ein sehr empfehlenswerter Titel.
Video bei Meglilo starten: 13:01
Homepage: Meglilo
Trial Version: MEGLILO_TRIAL.zip
Update/Patch: meglilo_patch.zip
Zurück zum Index
Steam Action Adventum

Die ersten drei Spiele, die Astro Port veröffentlicht hat, sind pure Shoot 'em Ups. Für Fans anderer Action Genres haben die Jungs aber auch einiges zu bieten. Zum Beispiel Steam Action Adventum, welches im Grunde ein Jump 'n Shoot ist. Wer bereits Blaster Master für das NES oder Mega Drive gespielt hat, kann sich sehr gut ausmalen was einen erwartet. Gesteuert wird ein Panzer, der außergewöhnlich hoch und weit springen kann. Während er fahrend und springend durch viele wunderschön gezeichnete Landschaften fährt, muss geballert werden, was das Zeug hält. Einige herumstehende Kisten hinterlassen Upgrades für die Waffensysteme und Zeitboni. Mehr Zeit ist wichtig, denn ein Countdown zwingt einen dazu sich ein bisschen zu beeilen. Steam Action Adventum ist ein tolles Spiel.
Video bei Adventum starten: 15:25
Homepage: Adventum
Trial Version: adventum_trial.zip
Update/Patch: adventum_patch.zip
Zurück zum Index
Gigantic Army

Noch besser als Steam Action Adventum ist Gigantic Army, welches ebenfalls ein Jump 'n Shoot ist. Zwar ist der Roboter in Gigantic Army, den man steuert, etwas weniger behände als der kleine Panzer in Adventum, aber dafür macht das Spiel auf der technischen Ebene um einiges mehr her. Die kleinen und teilweise auch riesigen Gegner sind unheimlich detailliert animiert. Definitiv gehört dieses Spiel zu den besten von Astro Port.
Video bei Gigantic Army starten: 19:06
Homepage: Gigantic Army
Trial Version: giganticarmy_trial.zip
Update/Patch: gigantic_army_patch.zip
Zurück zum Index
Satazius

Satazius ist möglicherweise das beste Spiel, welches Astro Port bis dato veröffentlicht hat. Spiele wie zum Beispiel Gradius und R-Type scheinen die Impulsgeber zu sein, aber Satazius ist auf jeden Fall besser spielbar und fairer. Spätestens mit diesem Spiel hat Astro Port bewiesen, dass sie ein sehr gutes Händchen für gute Action Spiele haben und ihr Handwerk verstehen. Unbedingt mal anschauen!
Video bei Satazius starten: 21:38
Homepage: Satazius
Trial Version: satazius_trial.zip
Update/Patch: satazius_patch.zip
Zurück zum Index
Super Tank Warfare: Adventia

Hier haben wir den Nachfolger von Steam Action Adventum. Allerdings wurde die Spielmechanik grundlegend verändert. Zwar wird wieder ein Panzer gesteuert, aber in diesem Fall sieht man das Spielgeschehen nicht von der Seite, sondern von oben. Und während man sich ballernd durch die Landschaften bewegt, wird die Umgebungsgrafik um den Panzer rotiert. Einige Spielelemente, wie zum Beispiel das ein oder andere Waffensystem oder die fünf Charaktere, von denen man drei für einen Run auswählen kann, blieben erhalten. Aber Adventia spielt sich völlig anders und sticht auch aus Astro Ports Portfolio heraus. Assault von Namco ist sehr ähnlich. Und Adventia ist mindestens genauso gut.
Video bei Adventia starten: 30:48
Homepage: Adventia
Trial Version: adventia_trial.zip
Update/Patch: adventia_patch.zip
Zurück zum Index
Steel Strider

Nach Gigantic Army hat es Astro Port mal wieder mit einem Battlemech-Jump-'n-Shoot versucht. Leider ist Steel Strider nicht ganz so gut gelungen wie das andere Spiel. Trotzdem ist es kein Fehlkauf. Gigantic Army ist aber auch ein verflucht gutes Spiel und nur schwer zu toppen.
Video bei Steel Strider starten: 34:12
Homepage: Steel Strider
Trial Version: steel_strider_trial.zip
Update/Patch: steel_strider_patch.zip
Zurück zum Index
Wolflame
Tja, welches Spiel ist besser? Satazius oder Wolflame? Grafisch macht Satazius etwas mehr her, aber Wolflame ist spielerisch ebenfalls unfassbar gut gelungen. Ich glaube, nur die Neigung zu horizontalen (Satazius) oder zu vertikalen Shootern (Wolflame) kann hier eine Entscheidung herbeiführen. Schaut euch unser Video an und entscheidet selbst. Fans der altehrwürdigen Vorlagen Raiden und Shienryu sollten sowieso zugreifen, wenn sie es noch nicht getan haben.
Video bei Wolflame starten: 37:36
Homepage: Wolflame
Trial Version: wolflame_trial.zip
Update/Patch:
Wolflame läuft eigentlich erst ab Windows 7 und nicht unter Windows XP. So steht es auch auf der Rückseite des Covers. Aber Henrik Fisch hat herausgefunden, wie man es trotzdem unter Windows XP starten kann. Die Anleitung findet ihr in einem Thread unserem Forum.
Zurück zum Index
Zangeki Warp

Zangeki Warp ist bereits das zehnte Actionspiel, welches Astro Port boxed auf den Markt gebracht hat. Und wieder hat das Zwei-Mann-Team eine grandiose Leistung abgeliefert.
Das bereits in Meglilo the Witchborg verwendete Warp-Feature wurde perfekt in das Spiel integriert. Andauernd ergeben sich tolle Gelegenheiten mithilfe des Warps irgendwie besser durch die Level zu kommen, ohne mit Gegnern, Wänden oder Bullets zu kollidieren. Apropos Wände… Das Leveldesign von Zangeki Warp wurde unheimlich gut auf das Warpen abgestimmt. Viele Stellen kann man gar nicht ohne schaffen. Zum Beispiel dann, wenn sich große Teile der Bauwerke bewegen und dem Schiff den Weg versperren.
Spätestens mit Zangeki Warp beweisen Ordan (Gamedesign, Coding) und Saku (Director, Pxel Art, Music), dass sie nicht nur technisch was auf dem Kasten haben, sondern auch gute Gamedesigner sind.
Zwischen den Stages kann das Schiff aufgerüstet werden. Das ist auch dringend nötig, denn ab der vierten Stage geht es ganz schön zur Sache.
Die Audiotracks, die während der Level gespielt werden, sind dieses Mal lang genug und werden nicht zu früh geloopt. Eigentlich ist es überflüssig, das Folgende zu erwähnen: Die Grafik ist toll, immer flüssig und die Steuerung ist perfekt.
Homepage: Zangeki Warp
Trial Version: zangeki_warp_trial.zip
Update/Patch: zangeki_warp_patch.zip
Zurück zum Index
Rocketron

Rocketron ist ein Spiel im Metroidvania-Style und das gesamte Areal, in der sie die Spielfigur bewegt, ist riesengroß. Die einzelnen Abschnitte, welche je nach Bewegungsrichtung horizontal oder vertikal scrollen, sind miteinander verbunden aber Anfangs sind die Durchgänge Anfangs verschlossen oder die Sprungfähigkeiten der Spielfigur noch zu schwach, um höher gelegene Plattformen und Gänge zu erreichen. Im Laufe des Spiels können die Fähigkeiten erweitert werden und ermöglichen den Fortschritt.
Das Spiel beginnt mit moderater Action, wird später härter und vor allem schwerer. Die Grafik überzeugt auf ganzer Linie mit abwechslungsreichen Szenarien und vielen Gegnern, die mitunter sehr groß sind und mit unterschiedlichen Mustern angreifen. Zur Wehr setzt sich die eigene Figur, welche nicht rennt sondern eher schreitet, mit vielen unterschiedlichen Waffensystemen, die erst im Laufe des Spiels gefunden werden müssen.
An einigen Stellen kann der Spielstand gespeichert werden – es gibt 69 Slots. Rocketron ist ein sehr gelungenes Actionspiel und macht lange Spaß.
Homepage: Rocketron
Trial Version: rocketron_trial.zip
Update/Patch: rocketron_patch.zip
Zurück zum Index
Links:
Kostenlose Spiele (Freeware) von Astro Port (keine Garantie für Lauffähigkeit unter aktuellem OS):
超電気博士アマモリ (Amamori): amamori1.1.zip
Sonic Ironstorm: Fatal Attack (vertikales Shoot 'em Up):Homepage / sonic_fa.zip
Demolition Gunner: Seek And Destroy (vertikales Shmup): Homepage / DG_ISAD_v2.zip
Tank Domination: tankdom.lzh
Robot and UFO: Homepage / ROBOT_AND_UFO.zip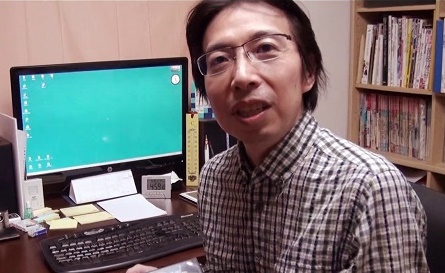 Changelog
23.01.2015: Beitrag veröffentlicht.
24.01.2015: Links zu jedem Update/Patch hinzugefügt.
24.01.2015: Links hinzugefügt, mit denen man das Video direkt bei den einzelnen Spielen starten kann.
(Verbesserungsvorschlag von Stardragon aus dem Sega-DC.de Forum)
24.09.2017: Rocketron hinzugefügt. Videos "Zangeki Warp" und Rocketron eingebettet